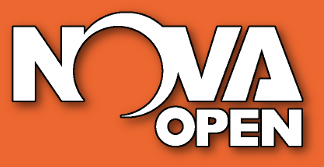 Colin and I headed up the NOVA 40k Trios Team Tournament again this year. We had 21 teams for 63 players, up from 18 teams last year. Trios features a somewhat unique format, in which teams of three play a doubles game and an individual game against an opposing team each round. It really only works at a large event like NOVA because of how many players are needed to have a good number of teams, but it works really well there. It's a great way to start off the convention because you spend the whole first day hanging out and playing with friends.
This year seemed to be a big success, continuing on from last year's well regarded event overhaul. As mostly expected, Warhammer 40,000 8th Edition seems to be holding up well to large competitions. We had extremely few rules questions come up and they were all easy to resolve. There were of course some powerful units kicking around, but no grumbling about specific units and armies at anything approaching the scale of last year. Games Workshop also again donated really awesome trophies for our top team. In addition, something I especially appreciated as someone who takes a lot of photos and spends almost literally 4 straight days at NOVA staring at games, TABLEWAR donated F.A.T. Mats to cover all the tables. Combined with numerous excellently crafted armies, the visual appeal of all the games was really high this year.
Many more photos from the event are available in the gallery here.
Missions
We ran our three most traditional missions, battle tested now over many events:
Open Ground: Controlling markers, choosing to score continuously or game end.
Slaughter Zone: Our take on Annihilation, using percentages of units killed.
Battlefield: Players choose from several primary objectives to either hold specific markers, kill enemy units, or preserve their own units.
Each of those missions also has a selection of secondary objectives, enabling players to either double down on the primary objective style or go for something else. For example, an army good at holding ground might choose a secondary to claim terrain pieces in addition to the objective markers, while an army better at killing units might choose a kill points secondary objective.
In addition, special to the 40k Trios and our local annual Tournament of Blood, each player is working toward a set of ten Warlord Achievements each round. These award the head of the army for personally capturing objectives or slaying enemies.
The full event primer with missions and details is available as a PDF here.
Results
NOVA 40k Trios awards five titles:
Renaissance Trios: Overall winners across battle points, sportsmanship, craftsmanship, and theme.
Strategists: The team with the most wins and then battle points.
Artists: Best painted team as judged by NOVA/Capital Palette painting judges.
Storytellers: The most original and best presented story of why a team's forces are fighting together.
Warmaster: The individual who scored the most Warlord Achievements.
Our winners this year:
Renaissance: Zac Schooley, Ashwin Ooi, David Beardwood.
Strategists: Sam Thorn, Aaron Beeson, Sawyer Philbrick
Artists: Jesse Gaskins, Trevor Aleho, Casey ?
Storytellers: Phil Kovac, Patsy Kovac, Billy Evans
Warmaster: Sawyer Philbruck
Full results are available as either XLSX or PDF.
Theme
Lots of teams really get into the narrative aspect of why their teams are fighting together, making extensive writeups and display boards. We very much enjoy seeing that effort each year, especially as it was our primary interest when we were Trios players. There were many great displays this year, so please check out the photo gallery. But four teams came up tops in our scoring matrix (detailed in the primer).
Team Audacious, our eventual overall winners, had an amazing, cohesive display of an Eldar force escorting Ultramarines through The Webway to reinforce Imperial Guard under Necron siege in their Ceresia Campaign background story.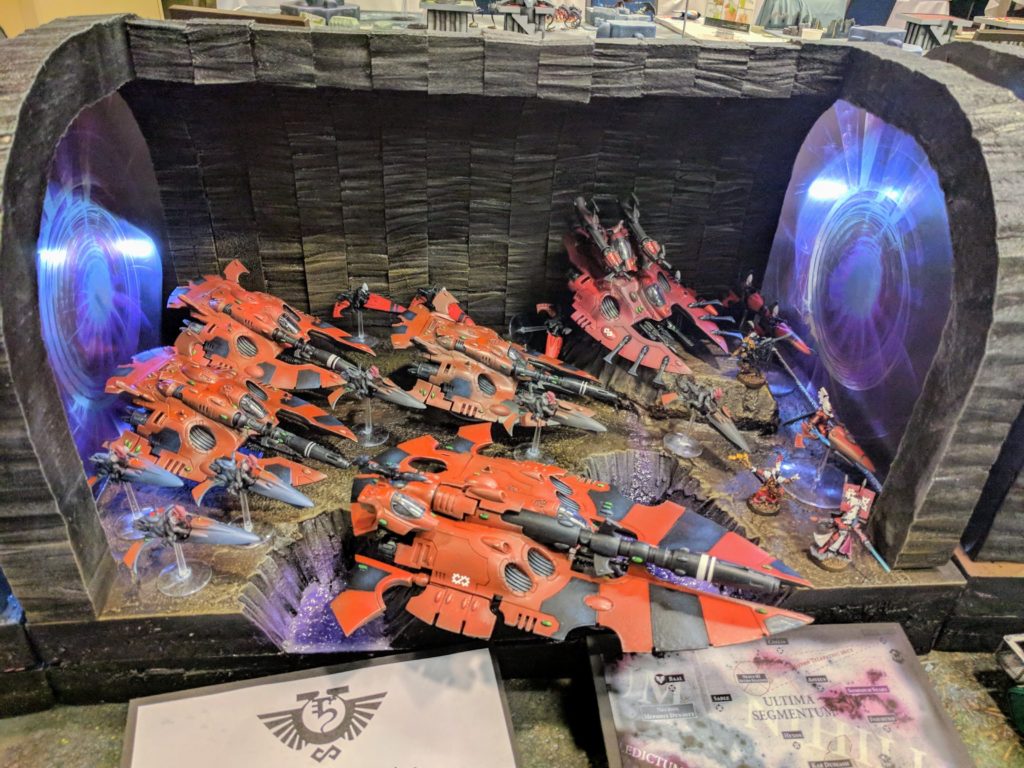 Teams Gallant and Indignant, last year's theme winners, again had an extensive writeup and display for their Liberation of Bellatain Prime storyline.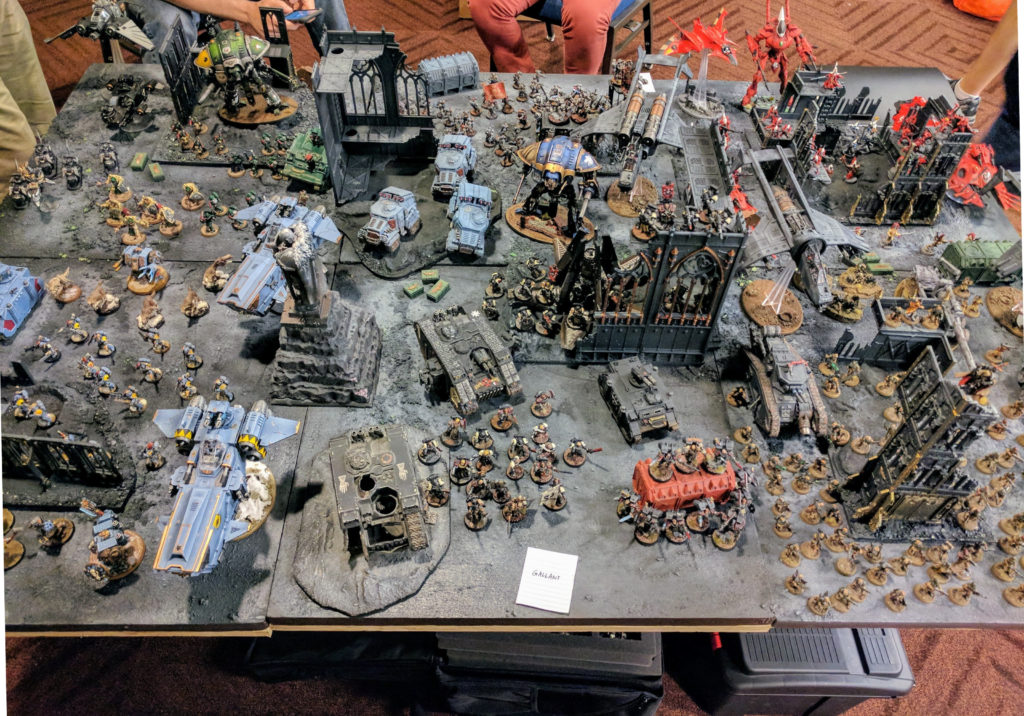 But our Storytellers title went to Team Courageous for their Crystal V and Hive Hyatt Prime storyline. You can read their introduction here. The competition was really close between all four of these teams, but what put Courageous ahead were three totally aligned factions and small details tying the armies and story together, like HQs having campaign shoulder pads shared across the armies.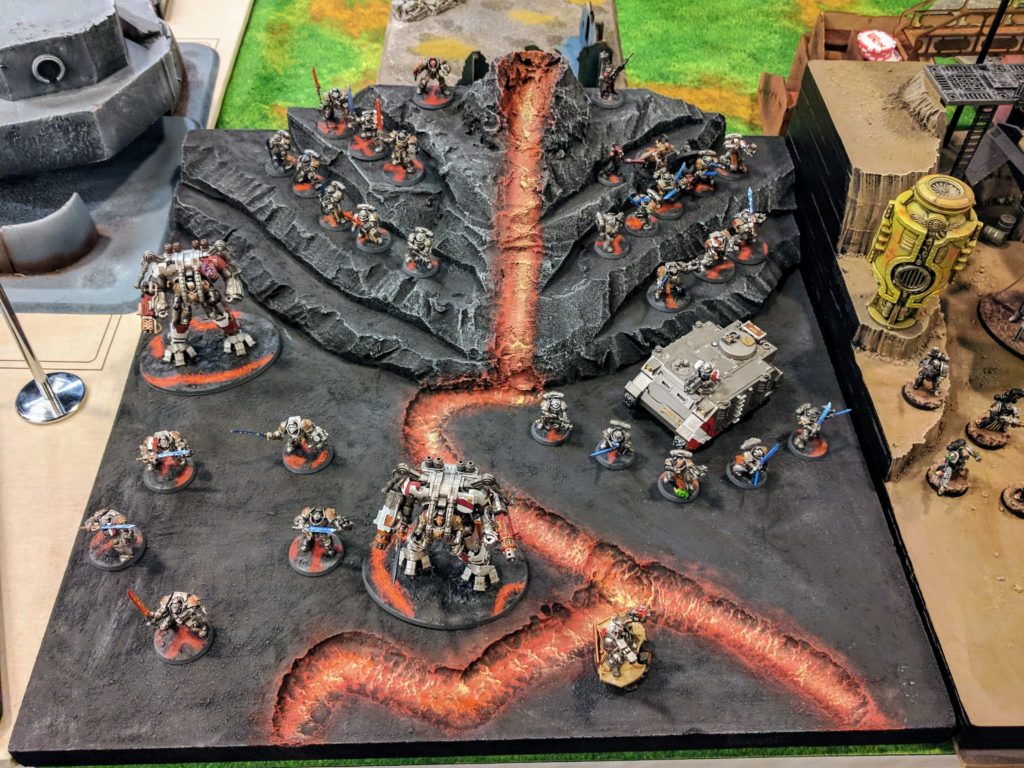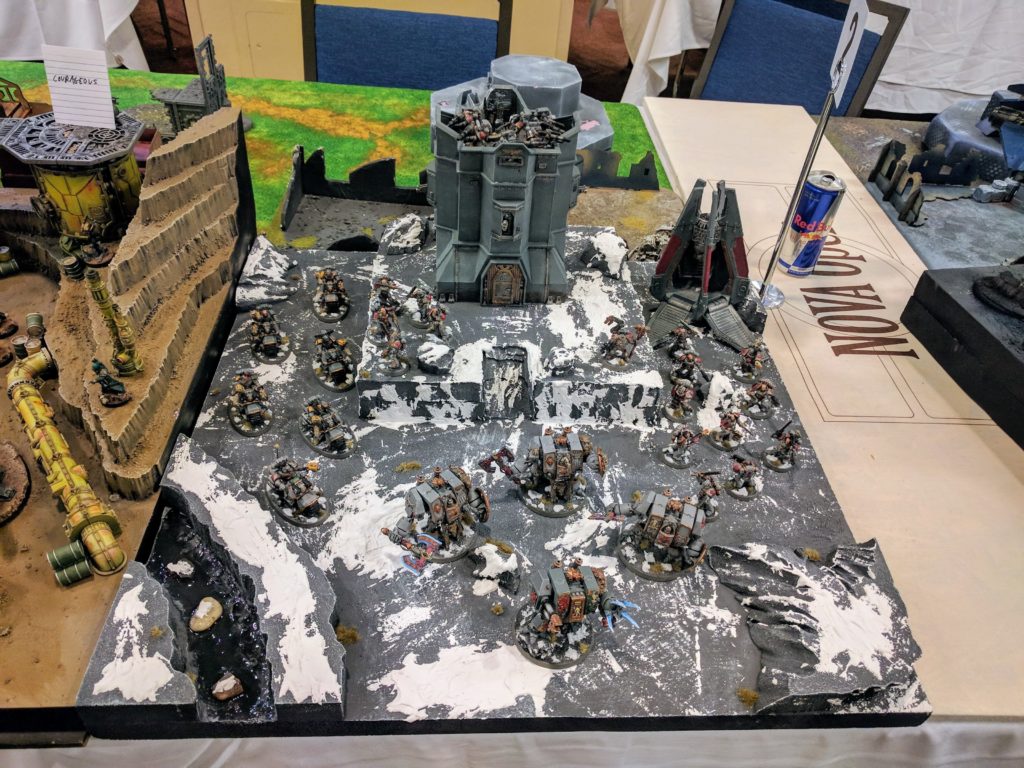 This year's event again though featured numerous incredible army displays in addition to these. More photos are in the gallery.
Next Year
Overall I think the NOVA 40k Trios is working well. Major changes for 2018 aren't expected, mostly procedural tuning and the usual mission rotation and tweaking. However, a few larger changes come to mind.
One possible addition are small buffs to help the second player defend against a first turn onslaught. That needs more thought, testing, and consensus building as 8th edition continues to shake out, but it sure seems like among most players the first turn is perhaps overly strong. A return of tertiary points for killing Lords of War is also probable. We kept those in the Narrative this year but tested Trios without. We'll probably also adjust Sudden Death and Boots on the Ground to also include Lords of War with the Fly keyword, or a similar ruling. Their technical exclusion from the errata for those rules came up in both 40k Trios and 40k Narrative, and I think goes against their intent and is probably inadvertent.
The most significant potential change on the docket right now is a very different slate of Warlord Achievements. Both years now the Warmaster title has gone to a player on the Strategists-winning team. To some extent that's not surprising and maybe inevitable. However, the current set of achievements encourages that by being goals you generally want to attain anyway, like slaying the opposing Warlord. It would be interesting if the achievements were just enough off track that you had to make a stronger choice between playing toward the mission or the achievements. We've thought about this idea a fair amount and haven't yet come up with anything which we didn't think was either overly complex or too distracting from the main mission, but will put more thought into it. It would be great for this title to wind up landing in another team, much like how we've seen a good spread among the team titles.
These are all somewhat minor issues though. It was another great year for the 40k Trios, and I look forward to yet another in 2018. Don't forget to check out all the other awesome armies in the gallery!
UPDATE: Greg Hess also has pictures up of the 40k Trios.