Recently I wanted a super cheap MP3 player to use in settings where it was likely to get messed up or lost: DJing at bike races, hiking in iffy weather, etc.. This was much more bewildering than I expected as there are hundreds of models from dozens of unknown manufacturers, all with cryptic names and minor differences.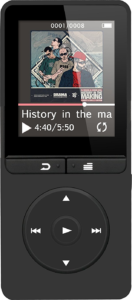 I wound up with a AGPTEK A20 because it's cheap and would take a MicroSD big enough to cover my collection, without paying for somewhat redundant larger internal storage. As it turned out, I was correct in my surmise that in these commodity players it would be a pain to have music divided across both the internal and removable cards. Big tradeoff for this player that knocks about $10–15 off is that it has no Bluetooth support. It does though have FM radio and a recording feature for taking notes.
Early impression is that the A20 is… somehow a bit less impressive than you would expect even for $28, but no doubt on par with all the other obscure players in this class.
Physically the device is fine, and the software is functional… but the emphasis is on functional. Just a little bit more polish would help a lot. A small example would be parsing song and artist names to present the song list, rather than just showing filenames… Welcome to 1999! Except, you know, you can only ready about 9 characters. A larger improvement would be unifying the internal memory with the MicroSD card to present a single collection, rather than somewhat implicitly requiring the user to mode switch between them.
In any event though, the player does have the basics covered. It also works reasonably well with my Linux laptop, in a barebones way. That's ultimately why I'm posting this, to confirm compatibility and record a couple notes for other users searching around.
The internal drive mounts seamlessly on my (Arch) Linux laptop and exposes the MicroSD card as well, which is nice. So pulling over a collection is a simple matter of copying or rsyncing.
The A20 will also play M3U playlists exported from any of a number of tools. The catch here is that you have to apply Windows conventions to those M3U files: It's looking for CRLF line terminators, and backward slash ('\') path separators. Spaces, other special characters in the song names seem to be fine, and both the listing and playlist features work with songs buried several folders deep.
So, as long as you don't want to do too much on the device itself other than hit play, and can prepare playlists and convert them appropriately, this seems like a reasonable super cheap MP3 option for Linux users.